As the line between indoors and out continues to blur in the home, the necessity for outdoor entertaining space in the residential market has grown in leaps and bounds. Homeowners are no longer satisfied with keeping their footprint to the interiors—the quest for wellbeing means a shift in lifestyle and spaces with a high level of choice and convenience that are flexible, communal, inspiring and offer people the chance to gather, connect, and recharge. And that is where expanding to the outdoors comes in—whether our clients are bridging the gap between the indoors and out with a transitional fully-tricked-out bar that opens to both, or are creating an entire new entertaining space outdoors, the demand is high.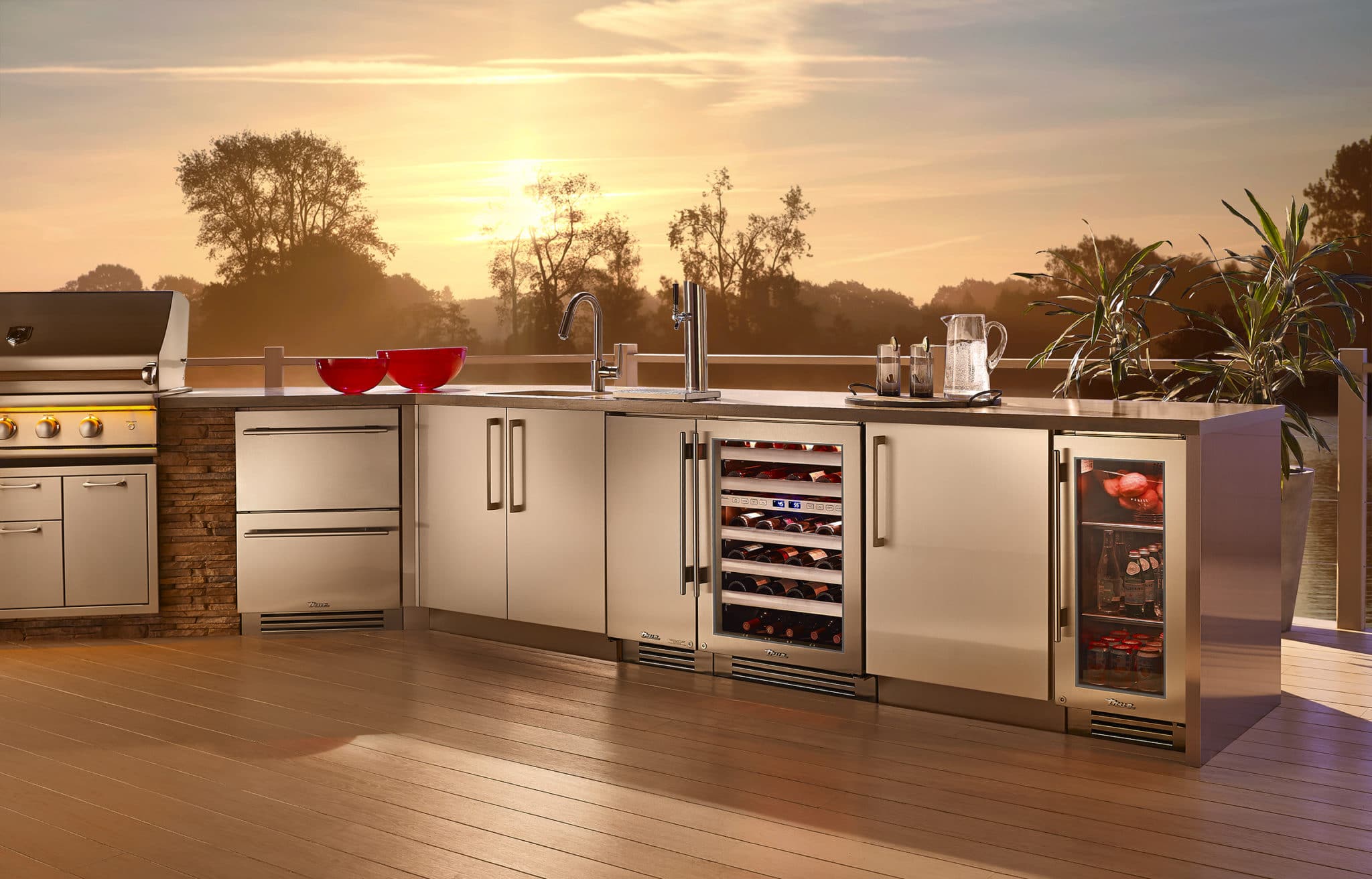 While we first began introducing our large assortment of indoor/outdoor solutions-based undercounter units in 2008, today we offer them in a stylish mix of custom finishes and hardware from our Build Your True collection. Each of them, from our Refrigerator Drawers, Freezer Drawers, Wine Cabinet, Beverage Center, the single and dual tap beer Beverage Dispensers, Refrigerator, and highest-performing Clear Ice Machine on the market, are available in 42 unique combinations of custom finishes and hardware. We recognized quite a while ago that the discerning homeowner is increasingly mindful of style in addition to performance and functionality—one of the reasons our Build Your True program will only continue to grow. Interior design is no longer solely relegated to the indoors—our clients want a seamless style from indoors to out. A sense of flow, cohesion, and convenience is imperative in this day and age—which is why we carry such unique finishes including cobalt, emerald, matte white, and ultra matte black (among many others), that cater to a range of design styles. From pool houses, to bars, rooftop lounges, barbecue set-ups and even stand-alone beverage areas, homeowners want everything at the tip of their fingers, and that is exactly what we present. We also offer ease of mind with an industry-leading, three year full warranty and a six year full warranty for sealed refrigeration systems.
Our undercounter units are also compact—ranging from both 15" to 24" in some cases—and feature a durable, powder-coated finish done in-house. We've seen clients design everything from stand-alone cocktail areas, to fully-outfitted bars with cold beverage centers, wine cabinets, an ice machine, and freezer drawers for chilled bottles of hard liquor, to outdoor spaces with a myriad of different service stations throughout. The trend to expand our lives to the outdoors is truly rooted in a growing, worldwide desire for wellbeing, a connection to nature, as well as convenience and ease of use. According to Zillow, homes featuring outdoor kitchens reach a sale price constituting 25% more than expected. The company also examined nationwide sales of nearly 4 million homes between January 2016 and December 2017—the conclusion was that the addition of outdoor features, amenities, and the design style are the factors that made the biggest impact on sale prices. Outside is definitely the new in.