As spring turns to summer, it's time to finish the all-important work of spring-cleaning. Spring and summer are garage-sale season in America, as homeowners everywhere clean out their closets and trade the heaviness of winter for a new lightness, just as you trade coats and sweaters for shorts and flip flops.
It's also a great time to do the same with your refrigerator. And removing old bottles, jars, boxes and cartons isn't enough. With 76-million cases of food-borne illnesses each year, a fresh scrubbing of glass, plastic, and stainless surfaces is a must.
In cleaning out your refrigerator, each disposed container comes with a memory: The Cinco de Mayo party, that Barbecue sauce from March Madness. Hopefully it doesn't go back too much farther than that!
But you may also be reminded of just how central the refrigerator is to daily life. Morning, noon and night, it's the only appliance we count on working nonstop.
Yet as life in your home gets busier and more complex, is your refrigerator keeping up? From school-lunch storage, to the preservation of cocktail sauce for tomorrow night's cocktail party, refrigeration in the home requires increasingly capable equipment.
Standard-issue refrigeration might have worked in simpler times, but its temperature and humidity fluctuations damage food. More expensive refrigeration may sport the price tag, but is it durable? Does it cool quickly and efficiently?
With these considerations, the gap between commercial and residential requirements are blurring. Just as restaurants test the durability of refrigerators by stressing door hinges, seals, and overall performance, busy homes can be just as tough!
Furthermore, the refrigerator in your favorite restaurant is out of sight. But in the home, your refrigerator plays a significant role in just how fresh that cocktail sauce is. It's a reflection of you.
This is the reason that America's busiest households are turning to commercial refrigeration. Just as SUV's, born of families' demanding needs, are commercially inspired, so too are increasing array of consumer purchases.
And refrigerators are at the top of the list.
Non-commercial refrigeration, even at the highest of levels, carries the burden of consolidation. From all-in-one ice-makers to taps and more, they are the jack-of-all trades, master of none.
Families who can afford their price tags can't afford the maintenance time required by their nuanced machinery. Do-it-all refrigerators will never be found in the restaurant, and as the world changes, shouldn't be found in the home as well.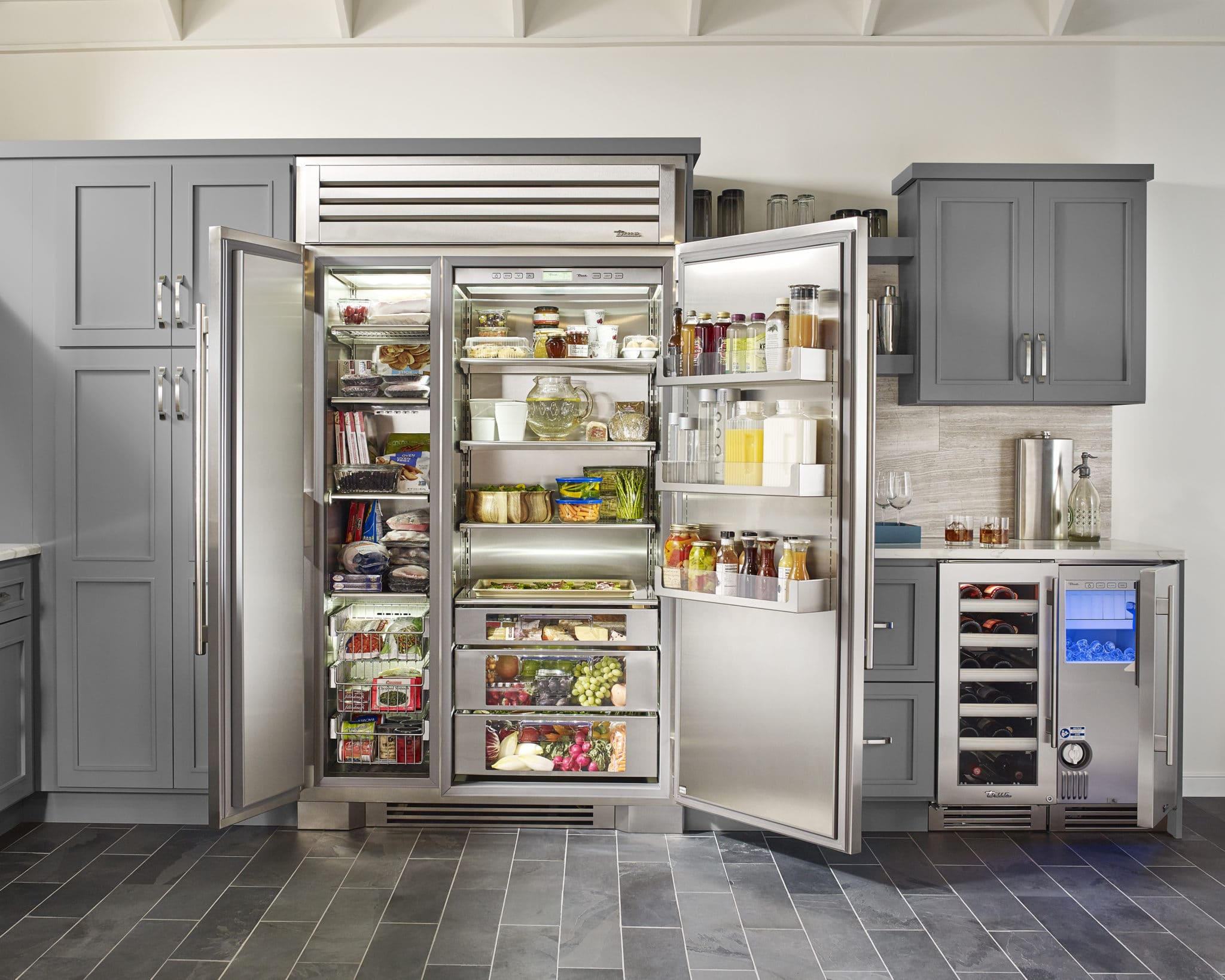 Instead, commercial refrigeration does the following:
Limits maintenance time and expense with a focus on refrigeration, not bundling of bells and whistles;
Handles wear and tear with ease; Stainless and glass beat plastic any day;
Limits odor and bacteria, again as stainless and glass eliminate porous plastic from the design;
Keeps temperature consistently low and avoids surges with door opening and closing;
Maintains integrity of hinges and seals with industrial build;
Brings food and drinks down to temperature in hours, not days;
Enables easy, accessible cleaning and maintenance;
Extends food freshness.
Commercial refrigeration for the home also borrows on the buying power of restaurants everywhere. While you may not have a food distributor backing into your garage, you can still enjoy access to commercial refrigeration historically inaccessible to the consumer.
Long ago, you traded consumer for commercial with so many of your everyday products, vehicles to personal care products now all come in professional lines. It's time upgrade your refrigeration with TRUE. Commercial refrigeration refined for the home.